ROADSHOW GIVES BACK
As a small locally-owned business in Memphis, we feel it's really important that we stay involved in the community and support our fellow Memphians whenever and wherever we can. So, we're excited to highlight local charities and organizations with #RoadshowGivesBack. Every month we will support a different local charitable organization or nonprofit. If you want to get involved, contact Roadshow MINI or visit our MINI dealership in Cordova, TN, to learn more about our partnership each month.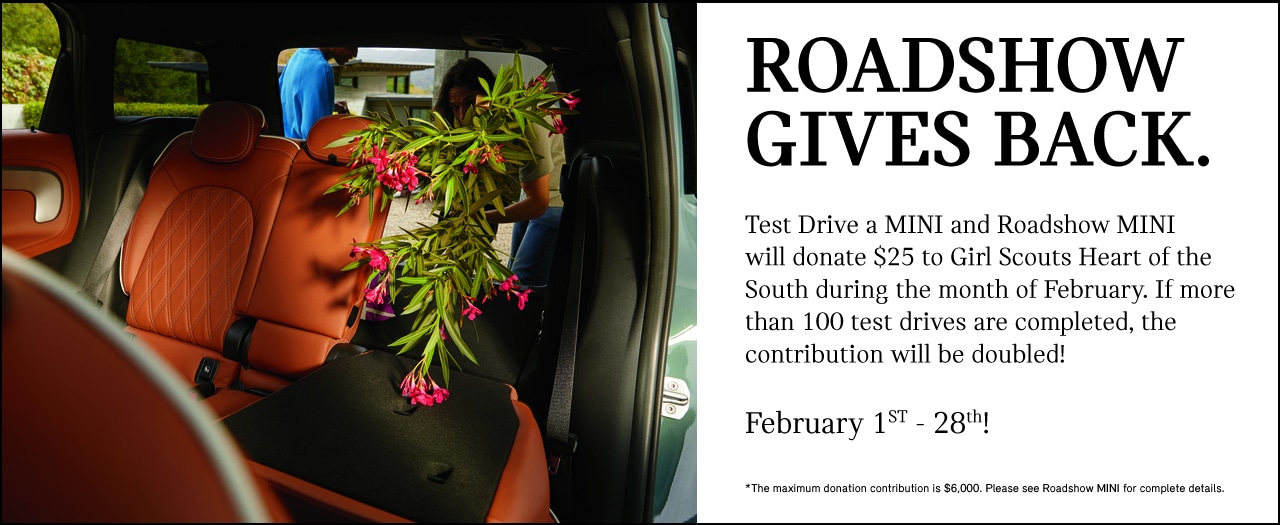 GIRL SCOUTS HEART OF THE SOUTH
This February, we will be partnering with Girl Scouts Heart of the South. We will donate $25 to Girl Scouts Heart of the South for every test drive here at Roadshow MINI. If we get to 100 total test drives, we'll double the donation. The maximum donation we will contribute is $6,000.
Girl Scouts Heart of the South provides girls with a place to discover their passions, find their voice, and make a positive impact in their communities. These Girl Scouts are building a better world for all of us and an investment in today's girls is an investment in tomorrow's community.
Did you know? 40% of Girl Scouts Heart of the South's membership receives some form of financial support through financial assistance, registration assistance, program fees, and summer camp scholarship annually.
Invest in girls. Change the world.
We will also have a cookie booth on Saturday, February 20 from 11 a.m. to 4 p.m. at Roadshow BMW that people can visit to test drive and purchase cookies. We'll have contactless payment options.
Help us ensure that every girl can develop the confidence Girl Scouts nurtures. An investment in Girl Scouting is broader than a cause or a cure. It's a commitment to the next generation of self-sufficient and capable women and 100% of every dollar donated stays with our council to support local Girl Scouts.
Just enter your zip code in the "Find Cookies!" tool to get dates and locations for Girl Scout Cookie sales in your area!
When you make a Girl Scout Cookie purchase, you're helping the next generation of entrepreneurs get an important taste of what it takes to be successful: teamwork, planning, and a positive outlook. Because proceeds from your purchase stay local, you also help create positive change in your community by powering life-changing experiences for Girl Scouts all year long.
Visit at: https://www.girlscoutshs.org/
2021 ROADSHOW MINI DONATION RESULTS: $6,000
Follow us: @RoadshowMINI or #RoadshowGivesBack