ROADSHOW GIVES BACK
As a small locally-owned business in Memphis, we feel it's really important that we stay involved in the community and support our fellow Memphians whenever and wherever we can. So, we're excited to highlight local charities and organizations with #RoadshowGivesBack. Every month we will support a different local charitable organization or nonprofit. If you want to get involved, contact Roadshow MINI or visit our MINI dealership in Cordova, TN, to learn more about our partnership each month.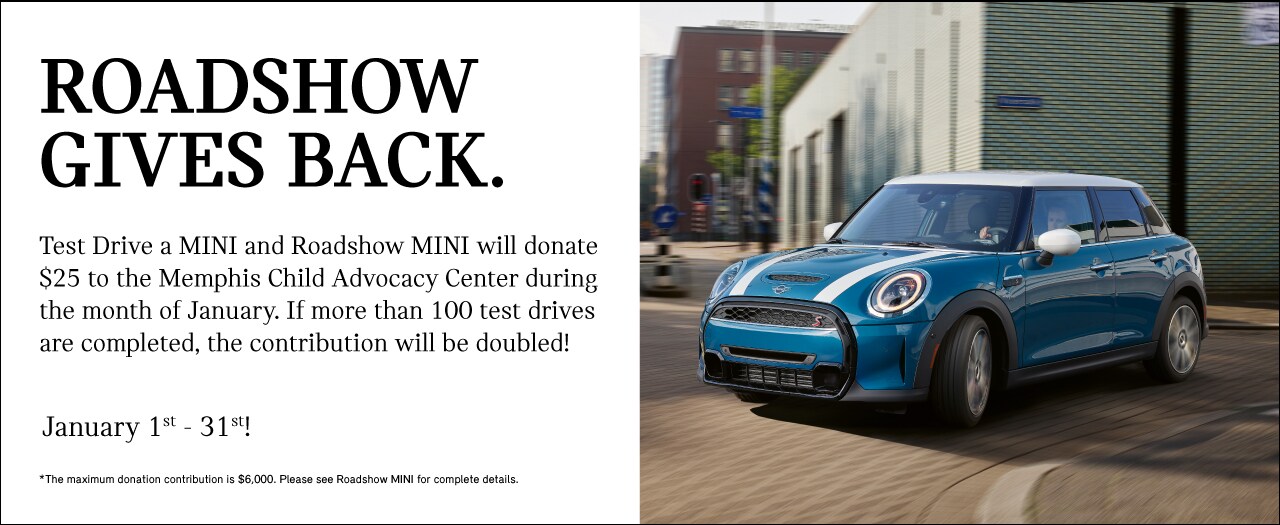 MEMPHIS CHILD ADVOCACY CENTER
During the month of January, we will donate $25 to the Memphis Child Advocacy Center for each test drive completed at our dealership. If more than 100 test drives are completed, we will double the donation. The maximum donation amount will be $6,000.
The Memphis Child Advocacy Center is a local nonprofit organization that works toward creating a safe, inclusive community for children who have suffered sexual and severe abuse. Through education, intervention and therapy, the Memphis CAC helps families heal and victims to become children once again.
Along with responding to child abuse, the Memphis CAC works to actively prevent such abuse as well. Through their initiatives such as the Stewards for Children training, adults can learn how to identify and respond to potential abusive situations and ensure children in their care remain safe and unharmed. The Memphis CAC campus also is home to the Shelby County Child Protection Investigation Team, which is recognized as one of the top such programs in the country.
Working with the Memphis Child Advocacy Center is an honor and a privilege, and Roadshow MINI is excited to kick off the new year by partnering with such an admired local organization. We hope you'll show your support by booking a test drive of your favorite MINI today!
Learn More: https://www.memphiscac.org/
2021 ROADSHOW MINI DONATION RESULTS: $72,000
Follow us: @RoadshowMINI or #RoadshowGivesBack